Soooooo, I just watched the
music video
for "We Can't Stop" and oh, dear Lord,
please
make it stop
. Not only am I really grossed out, I am also genuinely confused by the events that transpired in that video. My thoughts are as follows:
Like an infant, it seems that Miley has just recently discovered her tongue.
And she really wants us to be aware of that fact. Why else would she be licking any and every miscellaneous object she comes into contact with?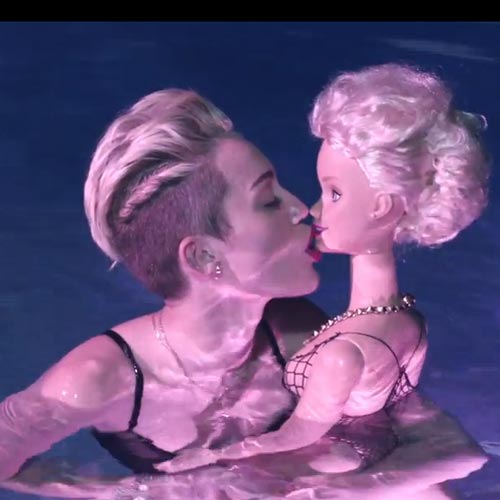 Next, I would like to have a word with the young man who we see chowing down on the money sandwich. Where is his mother?? And it's not just any money sandwich. I feel like I might be able to forgive him if they were ones. But those are benjamins baby, BENJAMINS!
The very least he could do is make it a money sandwich on wheat.
And just when I thought I couldn't be any more offended...
THEY CRUSHED THE SKULL MADE OF FRENCH FRIES.
A blatant attack on my most favorite thing.
UGH. Just, UGH.
------------------------------------------------------------------------------------------------
Because I love you and I really don't want you to have awful nightmares about twerking, I'm going to give you a good solid weekend recap that will hopefully push the disturbing images of Miley Cyrus and her very messy friends out of your mind.
Friday evening after work Taylor, Allison, and I all piled into the car and headed down to Brownwood for the weekend to celebrate our friend (and my favorite college roomie) Alli's birthday. Two hours in the car with my favorite people followed up with a full weekend spent with all the rest of my favorite people??? UM, yes please.
After staying up wayyyy too late talking and reminiscing all of Friday night, we all headed out around 9 for a fun (and insanely hot) group run where I tested out the very new and fancy instavideo.
(PS best friend is not a morning person...which is why her energy was slightly different.)
And of course, a blurry and sweaty post run pic!
A delicious post-run breakfast.
After breakfast, we all suited up and headed out for a lake day.
I love all these beautiful ladies!
After soaking up the sun, and eating one too many hot dogs, we headed back to the house to get ready for the birthday dinner!
We had a great dinner at Humphrey Pete's. Fun fact: I waited tables at Humphrey Pete's for three years while I was in college. Some good times and some not so good times. Last night was a good time :)
After dinner, we headed back to the house for cake and games and more birthday celebrating!
Long story short, I love those people, and leaving them is always bittersweet!
You just can't do a roadtrip to through the Texas heartland without making a Dairy Queen pit stop.
Really, you can't. I've tried.
And now it is time for kettle corn for dinner in my unmade bed.
Do you see the napkin? That's maturity, folks.
LOVE&HUGS,
Nat